Railings, Fixings, Glass Canopy, Stretch rod system and Point fixed SG facade
Our supplier and manufacturer started in 2010, since then they have evolved into a professional manufacturer of fixing accessories. Our goal is to help architects and construction workers create bright and airy buildings by providing secure fastening solutions.
All catalog products are stocked in order to offer fast and stable deliveries. Our supplier manufactures the products themselves, and can offer various tailored sets of parts suitable only for your applications directly from manufacturer.
In addition to our stock products, we also offer project-specific special solutions. For this purpose, the products are designed according to the requirements set out in the design documentation, perform strength analyses for glass and metal, producing high-quality parts within time constraints.
2013 our manufacturer was given a factory management certificate for production control issued by Inspecta, which gives us the right to label our products with CE markings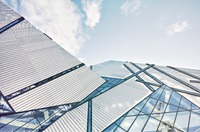 Technical consultation
We will advise you in the stage of drafting your projects, help to specify working designs and select suitable fixing accessories. Throughout several years our producer have helped both designers and construction undertakers to create safe and cost-effective glass and metal structures and based on this experience, we can suggest appropriate solutions for you. Contact us and we are glad to help!
Conducting strength calculations

Strength calculations are performed for glass panes, glazed units and metal fixing accessories based on the load borne by the glass, like the load in use, wind load and the dead load of the glass. Strength calculations are often required to verify the compliance of glass balustrades, glass canopies and glass facades. Depending on how complicated the project is, we make the calculations either manually or using the finite element method (FEM) in the Autodesk Nastran In-CAD software.

Designing and manufacturing of project-based fixing accessories
Our manufacturer designs fixing accessories based on the requirements of your project and manufactures them for a suitable delivery time. Our main production technologies used are CNC turning, CNC milling, laser cutting, welding and various surface finishing methods. The materials used include the stainless steels AISI 304 (EN 1.4301), AISI 316 (EN 1.4404) and Duplex 2205, aluminium 6063-T6 and various plastics. We make 3D models of the fixing accessories with the Autodesk Inventor software.
Designing of load-bearing glass structures
Load-bearing glass structures like glass facades with glass fins require a lot of responsibility, and dimensioning them demands specific knowledge. We have the knowledge and experience to help you compile working designs on load-bearing glass structures.